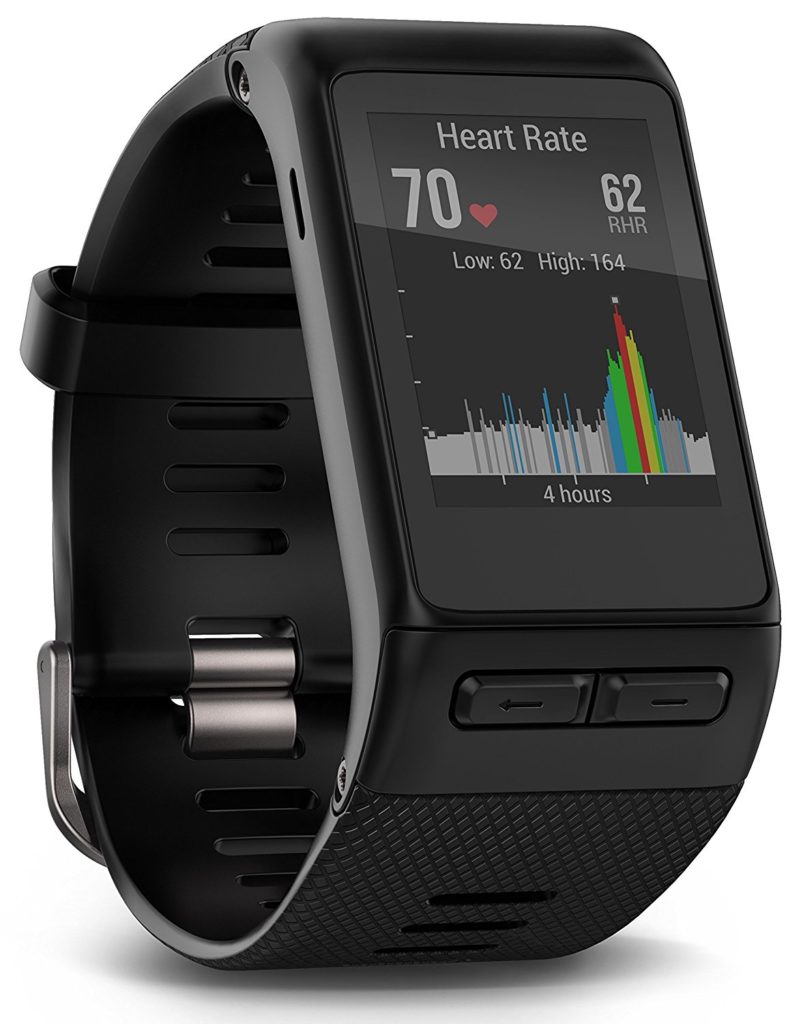 Fitness enthusiasts have a reason to smile for they can monitor all their training activities with the Garmin Vivoactive HR GPS Smart Watch. This fitness tracker can log more metrics than your average tracker. It monitors distance, floor climbing, steps, sleep, and heart rate. What's more, you can use it to track your running and biking route via GPS. It has sports modes to monitor useful data and gives information to help you improve your sporting activities like running, swimming, cycling, golfing, rowing, stand-up paddle boarding and a host of indoor activities.
The Garmin Vivoactive HR via its Garmin Connect app gives you access to more information including a snapshot check of your daily workout activity, or a look at your weekly or monthly progress. You can also use the app to manage your device's settings, compete with friends and share data with other apps and devices using Android, IOS and Windows 10 operating systems. It also has a "move bar" warning option that will tell you to get active during long periods of inactivity. The Garmin Connect app can give you insights to show you how your daily activities can affect your health.
Features of the Garmin Vivoactive HR GPS Smart Watch
The Garmin Vivoactive HR GPS has a stylish design. The watch measures 1.19 x 2.24 x 0.45 inches, weighs 1.67 ounces and features a narrow rectangular LED touch screen display measuring 1.1 x 0.8 inches with a resolution of 205 x 148 pixels. There are two buttons at the base of the display screen used for selecting the menu and for navigating on the displayed items. You can adjust the screen brightness with five brightness settings but the watch is very clear in bright sunlight and easy to read outdoors. The silicone wristband is the same width as the display with tiny hinges at the sides that allow for more flexibility and comfort.
Other features include:
• Optical heart monitor on the underside of the watch to log heat rate automatically all day and even when you sleep
• Eight days battery life to monitor your heart rate and all your activities when you are not using the GPS
• Onboard GPS to track the route of your runs and bike rides with maps and measure the distance, speed and heart rate as well as find the start locations when you get lost
• App store with widgets and other settings to change the face of the watch and add other apps and options like generic strength and cardio workout categories
• Move IQ software that can automatically recognize certain activities and tracks all your activities
• Sport mode option that displays three screens for each sport and you can customize it to only show information you want to see for a specific sport
• An easy to use touch screen – swiping up and down gives you info on the time, stairs climbed, calories burned, steps counted, distance traveled, current heart rate, heart rates highs and lows, resting heart rate, intensity minutes, swimming stroke rate and last workout statistics
• You can receive vibration push notification of calls, text messages, email, calendar events and weather reports from your Smartphone
• You can add ANT+ sensors to monitor temperature, cadence, speed, chest-worn heart rate monitors and transmit heart rate data to other devices
Is the Garmin Vivoactive HR GPS Smart Watch Worth Buying?
Addition of a heart rate monitor gives the Garmin Vivoactive HR GPS an enormous advantage over previous models. The HRM lets you workout within predefined heart rate zones and vibrates once you exceed those limits. Furthermore, the watch incorporates the best wrist tracking technology and there is no lag as sometimes noticed in chest worn monitors. For these reasons, it is worth considering if you are in the market for a wrist worn fitness-tracking device.
Pros:
• You can set other targets like distance, pace and laps to cover and the tracker lets you know how much work you need to put in to meet your weekly or monthly targets
• The GPS tracker locks to locations faster than most of the other sports watches and gives more accurate distance info along with data such as stride-length and cadence
• You can pair the watch with mobile devices using Android, IOS and Windows 10 via Bluetooth 4.0 to share and receive apps and data, once you download the Garmin Connect app
• The watch is waterproof up to a depth of 50 meters or 164 feet [rated 5ATM] and can log swimming and underwater activities
• You can use the watch to remotely control music tunes on a paired Smartphone