Nike+ FuelBand Se SportBand:
This stylish fitness tracker comes in a choice of colors, and gets you closer to your physical goals and improved heart health. You stay connected through wireless technology which delivers your recorded fitness levels and other metrics to your smartphone or tablet. The Nike+ FuelBand Se SportBand appears to be just an understated wrist band, but has advanced technology and fitness tracking sensors which require a closer review.
Key Elements of the Nike+ FuelBand Se SportBand:
* Always connected and accessible via your smartphone through Bluetooth 4.0
* Perfect for all ages, weights and genders
* Tracks multiple metrics, not just how many steps you take
* Water resistant and durably designed
* Tracks intensity and frequency of your daily movements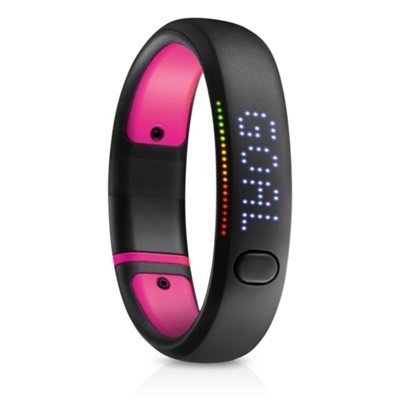 Is the Nike+ FuelBand Se SportBand a Smart Purchase?
Wirelessly able to track your every movement, this attractive and durable wrist wrap is flat black in color on the outside. The interior of the band is offered in your choice of red, green, black, pink or silver.
The Nike+ FuelBand Se SportBand is available in small, medium-large and extra-large, and includes two insertable links (0.32 inches / 8 mm and 0.63 inches / 16 mm) for custom fitting to your wrist.
Out-of-the-box the fitness band also includes a charging cable and a sizing tool. The more you move and the harder you work out the more Nike Fuel you earn, driving social interaction when you brag and compete with friends.
One thing to bear in mind, this band is only Apple iOS compatible, so it does not currently work with Android devices. As an upgrade to the original and popular Nike FuelBand, better water resistance, more social connectivity options and longer battery life have been added this time around.
One really nice feature is the smart display which automatically detects exterior light levels and adjusts accordingly. This makes viewing the color LEDs in any environment quick and easy.
As you move you earn Nike Fuel, and you can compare your points with other FuelBand users online through Nike+ Groups. This helps to keep you motivated and competitive, which in turn will help improve your fitness levels.
Another nice benefit is the ability to set up sessions which track the intensity of your workout, and even your sleep patterns. A built-in pedometer counts steps, and the display can show time of day as well.
A must buy for Nike fans, the Nike+ FuelBand Se SportBand is an understated wrist wrap with programmable activity reminders, social interaction and other fitness tracking abilities that will make a smart purchase for fitness minded individuals looking for the hottest health enhancing fitness product.